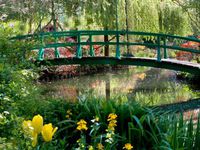 If Paris is the city of romance, Spring is it's season, and, as soon as the month of March is over, it's the flowers which
evoke this marvelous season of rebirth and regeneration. What could be prettier than the tree branches, covered with pink blossoms. But one of the grandest sign of Spring's return is the opening,
on April 1st of Claude Monet's gardens in Giverny.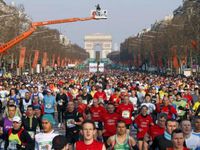 Then comes the Paris Marathon, with tens of thousands of participants traversing the city, with
throngs of enthusiastic spectators looking on.
Spring is also the time of some of the most beautiful expositions, from the Grand
Palais to the Musée d'Orsay, or at the Luxembourg Gardens. Paris is always a little chilly, but a tender green covers the tree branches of the avenue George V.

May 1st, Labor Day, symbolizes the return of sunny days, and the symbolic giving of flowers (Lilly of the Valley) on this day reinforces this tradition. This day is also an excellent excuse to
leave the city, as, it being a national holiday, most commerce are closed!
As Paris brightens up, Mai sees the action move towards the Cote d'Azur for the Grand Prix of Monaco, and especially for the Cannes Film Festival, but the stars never miss an opportunity to spend a little time in
the City of Lights, and especially at the George V.
May is also the the time of the Night of the Museums , when in all of France and especially Paris, one may see the great houses of culture in a
new light.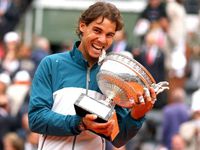 The end of May sees the coming of the Roland Garros tennis championship, where the best of the best challenge each other in matches watched over by eager fans of all stripes.
The month of June sees the great horse race championships at Chantilly, the Prix de Diane and the Prix de
Jockey Club, and every two years Paris catches aeronautic fever for the Air and Space Show at Le Bourget, probably the most
important trade show of the year. Le Mans, the legendary car race takes place three hours away from Paris.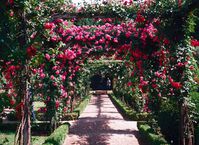 Flowers are omnipresent again, as at the extraordinary Bagatelle rose garden,
the new rose of the year, surrounded by « Pierre de Ronsard », « Cuisse de Nymphe Emue » or « Parfum de l'Haÿ », is chosen.
Spring will soon yield to Summer and the Fête de La Musique on June 21st marks the
time when we say farewell to Spring and greet Summer.